Hey my loves! Before I share today's faithful Friday post I want to let you know that I am guest posting over at my friend Caroline's blog
In Due Time
today. It would mean so much to me if you would pay her blog a visit and read the post. I am sharing about something that is near and dear to my heart and I am sure you will be able to relate.
Now that we've gotten the announcements out of the way. I wanted to tell you all about my two husbands. I know this sounds a little far fetched but it's true. Before I married
Mr.Fixit
I was already spoken for by someone else. This love of my life suffered for me, was tortured for me, and died a criminals death for me. If you haven't guessed it already I am talking about Jesus Christ. As members of the church body we are the Bride of Christ. I know this may seem awkward especially for men to refer to themselves as Christ's bride but that's what we are.
For Christ is the ultimate husband, soul mate, friend, confidant, and greatest love of our lives. While we were unworthy He sacrificed His life for us, while we were flawed He was determined to love us. The imagery of
Christ as the Husband
and the
church as the Bride
is better explained in
Ephesians 5:25-27
, where the bible tells us that Christ loved the church like husbands were supposed to love their wives. Thus making the church the bride of Christ. We are His bride because He loves us, provides for us, protects us, washes us in the word of God, makes us holy and also gave Himself up for us.
As brides of Christ we are to:
Christ is our husband so we are all called to carry the responsibilities of a wife in our relationship with him. Married or single, male or female we are all brides of Christ. If you have a husband look to him as the physical manifestation of Christ's love, but remember that ultimately we submit to Christ. Know that marriages are meant to be an example of Christ love for the church it's not the other way around. If you are single remember that you already have a Husband in Christ who has claimed your heart. No matter our marital status for our Husband Christ we must remain pure at heart and abide in his love as we anticipate His return which will be our glorious wedding day.
For today's post I am linking up with Susannah from
Simple Moments Stick
. I would love to hear what you have to say about being a bride of Christ. Leave a comment below with your thoughts or link me to your own post.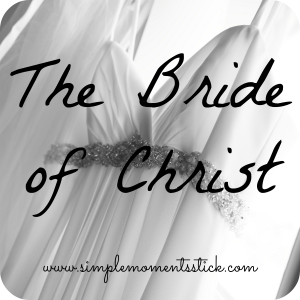 Check out Rebekah's Blog