Hey Lovelies,
I am joining Catalyn again for this week's confessions. So here we go:
I confess that I ate way too many sweets this weekend, and I am currently coming down from a cake and chocolate hangover, seriously I've had a headache for 2 days.
I confess that I seriously wanted to indulge several Amaretto Sours for my birthday but my eating clean fairy convinced me that I would be over doing it.
I confess that I'm a vegan but I ate a crab that I named Pablo this weekend. He was so delicious, thanks Pablo for your life sacrifice.
I confess that I am totally obsessed with the Bible Series on the History Channel, but the cartoon the Prince of Egypt told Moses' story much better.
I confess that my nails look terrible right now but I am too lazy to even get a manicure.
I confess that my family drives me bananas and sometimes I feel like I'm adopted.
I confess that I'm a total nerd and that my mom is best friend, I love her so much if I wasn't married I would take her to a little Island so we could live together until we died…weird? I know.
I confess that I love Jesus and I am so obsessed with him, if it weren't the Christian mission to share the Good News I'd be inclined to never tell and a soul and have him all to myself.
Lastly I confess that I can't function without my cell phone I lost it a few minutes ago and nearly had a panic attack, it was under the sheets. LOL.
Those are my confession, what are yours?
Link Up Here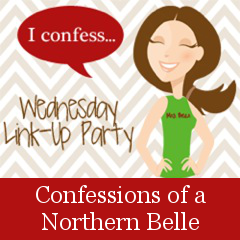 XOXO,
Charity